Plato
Nº Inventario:
CFC13
Descripción:
Pasta de frita, pintada en brillo sobre un esmalte blanco opaco
Dimensiones:
Height: 7.1 cm (over irregular); diameter: 22.6 cm; diameter of foot: 7.5 cm; height of foot height: 3.2 cm.
Inscripciones:
Rim inscription:
The writing resembles the angular script known as Kufic and bears the characteristic of certain Arabic letter forms, but not a word is legible.
Wall (zone 1) inscription):
This consists of two separate Persian quatrains (A and B) on the theme of love. The last verse of quatrain B is written in zone 2.
Quatrain A: This poem has been attributed to Kamal al-Din Isma'il (d. 635/1237-38), and appears in a section of a poetic anthology dealing with intoxicating drinks.31 The
shajar? rub?b
mentioned in the first line refers to a stringed instrument in the form of a short-necked guitar with a parchment surface. The Kachghari in the second line refers to an oasis town (Kach-ghar or Kashgar) along the rim of the Tarim Basin in what is today the southern part of the Xinjiang Uyghur Autonomous Region (also sometimes called East Turkestan) of the People's Republic of China.

Last night on a shajar? rub?b's bowl
I was lamenting a Kachghari song.
That self-admiring fairy came out with the bottle of wine
[and] said: If you play the rub?b (bowl), you will drink what is in the bottle.
Quatrain B: A lover's lament, by an unidentified poet.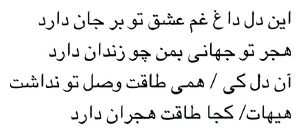 This scarred heart has the anguish of your love in its soul.
Your separation makes my world like a prison.
That heart that did not have the strength of being united with you;
Alas! How could it have the strength of being separated from you.
Center (zone 2) inscription:
This consists of two separate Persian couplets (A and B).
Couplet A: This comes from the Shahnama (Book of Kings), completed in 1010 A.D. by the Persian poet Firdausi.

Eat whatever you have, and give excess away,
If you are vexed, do not put it on account of the enemy.
Couplet B: The first part of a formulaic phrase, found in various versions on many Persian ceramics and other objects.

May glory, prosperity, grandeur and joy
[Be not far from the owner of this vessel]
Observaciones:
Decoración:
The rim is painted with a thick line of luster encircling a wider band with an illegible Arabic inscription in angular script against a background of loose luster scrolls. The decoration of the walls and central field consists of four zones:
1) a Persian inscription written in cursive script and divided into six segments;
2) a band of six oval medallions, enclosing an interlace pattern and spirals and linked by a scroll design in
reserve, which project to separate the inscriptions;
3) a second Persian inscription written in cursive script and divided into six segments;
4) a central circular medallion with a loosely-drawn four-part scroll in reserve against luster ground that resembles the scroll design in zone 2 and with the same scalloped edge and finials. The exterior of the dish is decorated with 34 luster lines forming a "chain-and-stripe" motif.
The luster decoration of this dish is very brassy, indicating a predominance of copper oxide in the pigment, and the drawing and painting of its composition very delicate and of extremely high quality. It is quite likely that the piece was made in Kashan, probably circa 1200-1220. The "chain-and-stripe" pattern on the exterior is found on many pieces associated with the so-called Gurgan horde, including others typical of Kashan production. (Catalogue number 11 has a sketchier version of the same design feature. Other examples are cited in Related works below).
Estado:
Some abrasion on the rim
Bibliografía:
Grube 1994, cat. nos. 276 (Khalili Collection, London, POT 164: chain-and-stripe motif), 280 (POT 1563: interior decoration and Persian inscriptions, couplet A).
Pancaro?lu 2007, cat. nos. 75, 77, 87 and 91 (Plotnick Collection, Chicago: chainand-stripe motif), 80 (said to have been found in Gurgan, interior decoration), 76 and 81 (Persian inscriptions, couplet B).
Watson 2004, cat. nos. N.7 (Al-Sabah Collection, Kuwait, LNS 35 C: Persian inscriptions, couplet A), O.17 (LNS 31 C: chain-and-stripe motif and interior decoration), O.18 (LNS 106 C: chain-and stripe motif), P.7 (LNS 88 C: Persian inscriptions, couplet B).